Over the weekend, the hashtag #EndSARS was trending on Nigerian Twitter, with more than 100,000 tweets. The content ranged from stories of assault and illegal arrests to death threats and videos showing officers of SARS (Special Anti-Robbery Squad) shooting at unarmed civilians. SARS is a special arm of the Nigeria Police Force created to combat violent crimes. The group, however, has become a societal menace, perpetrating the very acts it was created to stop. SARS officers have been accused of armed robbery, extortions, assault, and murder. Torture has become a lucrative business enterprise for some of them.
In the End, we will remember not the words of our enemies but the silence of our friends.

The Nigerian Police Force need a total Revamp.#EndSARS #EndSARS #EndSARS pic.twitter.com/16Rm7roe4J

— Yomi Shogunle Block industry #EndSars (@ogbeni_opa) December 3, 2017
SARS official threatening to shoot African China while returning from a video shoot #EndSars pic.twitter.com/QgX5aSohab

— EDOBOI erunz (@Eromosele6) December 4, 2017
I was on a job 5 mths ago, I wnt to ketu to get more chemical as my chemical finished on site. police raided me, I slept in their cell that nght, took me to a kangaroo court in oshodi D next day, court said i was guilty of causin havoc, & dey landed me in kirikiri prison #EndSARS

— adams taofeek (@souladamstweets) December 4, 2017
https://twitter.com/iamTJAN/status/937284217834176512
Can never forget November 2005, driving in Abuja with @sommbonu and @IAMOfem. Stopped by a plain clothes officer with a gun, chased and actually being shot at for being "suspected armed robbers". Ofem still has the bullet scars on his shoulder.#EndSARS

— Ebuka Obi-Uchendu (@Ebuka) December 4, 2017
https://twitter.com/DONJAZZY/status/937517592062853121
Can't count the number of times I had to go to the police station because one of our Andela developers called to say they had been arrested. #ENDSARS

— Iyinoluwa Aboyeji (@iaboyeji) December 4, 2017
There are thousands and thousands of more tweets sharing similar and even worse stories.
Just hours after announcing his return to the People's Democratic Party (PDP), where he is expected to run again in 2019 for the office of president, Atiku Abubakar also tweeted his support for the movement, saying that "The arbitrary harassment of young Nigerians by Police (who should be protecting them) has no place in a democratic society. The #EndSARS protest shows Nigerian youth are upset and the matter needs urgent attention."
The Nigeria Police Force already has a special complaint channel for citizens to report the abusive and illegal activities of SARS officers.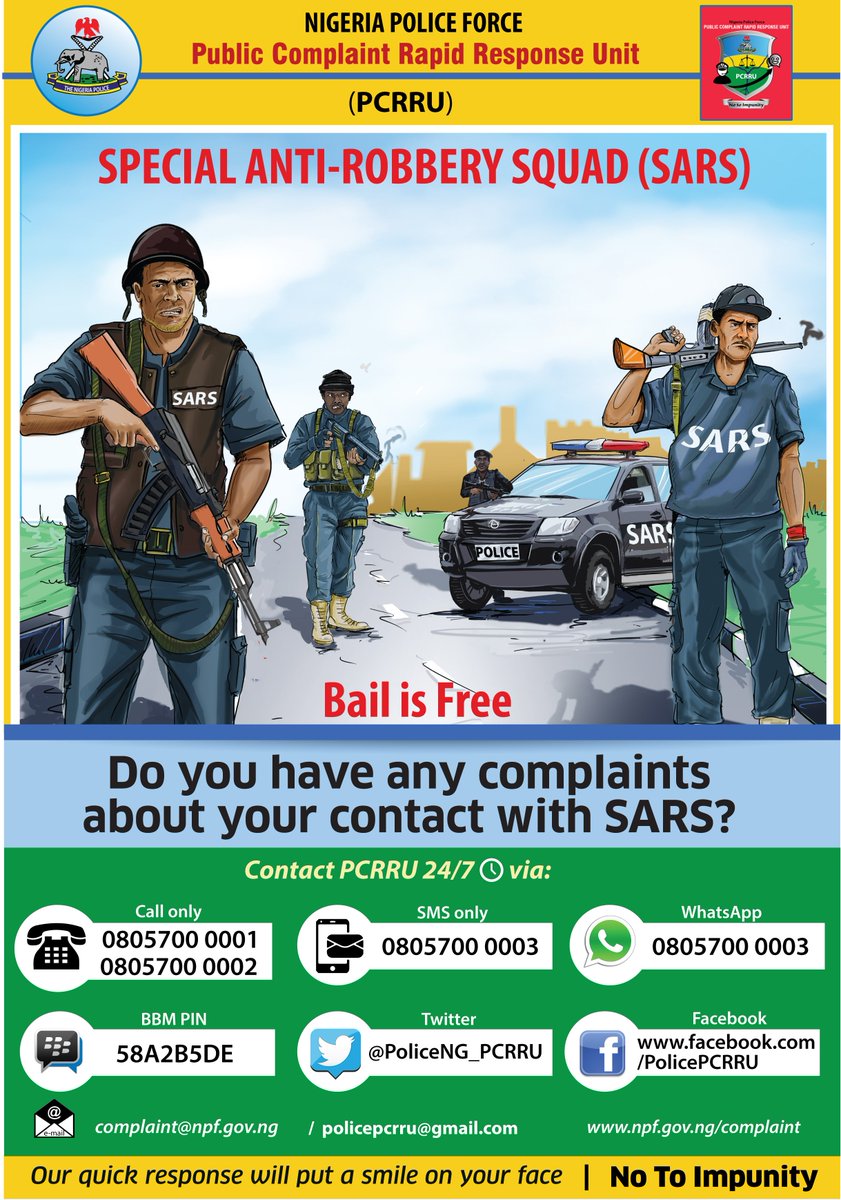 However, the same police force came out on Sunday to dismiss the accusations against SARS officers as "insinuations from people that just come to the social media [to] start spreading falsehood", adding that "people spreading such information may likely be armed robbers themselves." Jimoh Moshood, the police spokesman, commended officers of the anti-robbery squad for "doing fantastically well across the country in reducing incidents of robbery to the barest minimum." Such a statement from a high-ranking police officer leaves no room for debate, it bascially pits the police against the people.
Nevertheless, and contrary to what Mr Moshood chooses to believe, the Special Anti-Robbery Squad has been operating in this manner for some time now. Back in 2016, Amnesty International (AI) published a report detailing the "widespread torture and other cruel, inhuman or degrading treatment or punishment (other ill-treatment) of detainees in their custody." The report "shows that detainees, both men and women, are subjected to various methods of torture and ill-treatment in order to extract information and 'confessions'. Such methods include severe beating, hanging, starvation, shooting in the legs, mock executions and threats of execution."
"They brought a plain sheet and asked me to sign. When I signed it, they told me I have signed my death warrant. There were two policemen in the hall. They asked me if I knew how many people died there. They said that if I die, my blood will never be on their hands," a 33-year-old fuel attendant who was  detained for two weeks in SARS Awkuzu, Anambra state, in January 2015, told AI. He was released on bail after two weeks of detention when a high court in Onitsha, Anambra state ordered for his release.
In November 2015, in hopes of reforming the police force, the Inspector General of Police (IGP) introduced the Complaint Response Unit (CRU). In the first two quarters of 2016 alone, the unit received 1,960 complaints. 143 of them were against officers of SARS. The IGP acknowledged the public concern and assured Nigerians that human rights violations by police officers would not be ignored. A year and some months later, it seems very little has changed.
Human rights infringement and abuse of power are not aliens in Nigeria. In actuality, they are special citizens and prominent influencers of the system. Politicians abuse power to infringe on press freedom, military men abuse power to assault citizens, police officers abuse power to make life miserable for the people they are sworn to protect. Calling for an end to an oppressive force (like SARS) is, in every way, a noble cause, one that should be fought for with every ounce of strength musterable. But the problem runs deeper than that. It is as cultural as it is political — once a person holds power in a country where powerful people are not known to be accountable to the people under them, it is not unexpected that they will abuse that power.
The Nigeria Police Force is in desperate need of a reform, but so is our idea of power and the responsibilities that come with it. Our military past has not been very helpful, it shows in the way citizens relate with politicians — the one who should serve becomes the one who is served, the people answer to the politicians and not the other way around. This call to #EndSARS is the beginning of a long walk, one that will take decades of angry protests — from citizens who are fed up of being treated as less than they are — and systemic reforms. Police trainings and assessments need to be looked at and reinforced, the force needs more funding than it has gotten in the past, policemen have to become more professional and realise what is at stake if they're not, erring police officers need to be sanctioned based on the gravity of their offences. A lot needs to be done, but it is good that a movement has begun.