Last week, Kenyans on Twitter revived the #UhuruChallenge hashtag, this time to mock President Uhuru Kenyatta's decision to make a big deal of the launch of a footbridge in Mombasa.
On Thursday, January 5, 2017, President Kenyatta wrote on his Facebook page, "Commissioned the Buxton Footbridge Non-Motorized Transport Project in Mombasa. We are commissioning projects worth Ksh. 3.2 Billion in Mombasa today."
However, this commissioning hasn't gone down well with a lot of Kenyans, many of them taking to social media to ridicule the president by launching and commissioning their own 'petty projects'.
#UhuruChallenge It gives me great pleasure to launch the launching kit, this will go a long way to ensure that all launches are decorated pic.twitter.com/7hGjryZSuf

— Enc (@_7nth) January 7, 2017
Pleased to oversee commissioning of hot water whose temperature my leadership has effectively shepherded to 100 degrees #UhuruChallenge pic.twitter.com/JuYegiYHgg

— Jack Reacher (@roomthinker) January 7, 2017
launched the final phase of this nivea lotion pic.twitter.com/NS96oMbnTc

— 莫丝 (@m_monyorwa) January 7, 2017
I have commissioned the multi million manually propelled dental debris excavator project #UhuruChallenge#HealthCrisisKe #Lipakamatender pic.twitter.com/Ei4NEMLae1

— Rubin anthony (@Rubinanthonyh) January 7, 2017
I hereby commission this as a symbol of our renewed diplomatic relationship with the Serviette Union #UhuruChallenge pic.twitter.com/Yl4NXvAi6d

— Nova Waithaka (@mbuuwaithaka) January 7, 2017
This one is different, it's a jab.
When you realise the only thing you ain't launched yet is a spirited fight against corruption #UhuruChallenge pic.twitter.com/jXgV8RkySD

— KB (@KinyuaKibiru) January 7, 2017
I'm about to commission this political promises deposit box #UhuruChallenge pic.twitter.com/1EZZDK1Plg

— Imran (@TheAfroIndian) January 7, 2017
#UhuruChallenge i have officially launched and taken over the livingroom pic.twitter.com/Ey3gNLvU9Z

— Oremo (@r0578) January 7, 2017
With love, from Zimbabwe…
From Harare the capital of Zimbabwe, I present to you my #UhuruChallenge. Commissioning a toilet door. pic.twitter.com/8qGCGgHGed

— Robert Mugabe (@MUGABEzw) January 7, 2017
And then there's this…
Jubilee looking for next project to be launched by @UKenyatta #UhuruChallenge pic.twitter.com/sFeezAT2sq

— silo kim (@silokim) January 7, 2017
I have commisioned the new transport system worth billions of shillings #UhuruChallenge pic.twitter.com/kpuGi0PbSo

— ®ⓘⓒⓗⓐⓡⓓツ (@Ulopa_) January 8, 2017
The Buxton footbridge is the first in Mombasa; other projects commissioned that day include the Bamburi storm water drainage, high mast floodlights, and the Ziwa la Ng'ombe informal settlement improvement project, all funded by the Kenyan national government with the aid of the World Bank under the Municipal Programme Project.
This won't be the first time Kenyans have used the hashtag to parody their president. Back in September 2016, Uhuru Kenyatta visited Kiambu County where he launched a lighting project. Upon stepping into a room and, perhaps, seeing it in a state he wasn't used to, his reaction was caught on camera: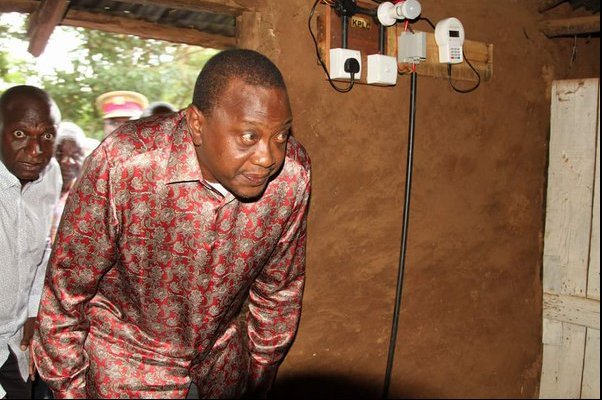 A few hours later, social media was flooded with images of people mimicking the president and his cabinet secretary, Charles Keter's reactions:
https://twitter.com/jn_nyabuto/status/778940789367898112
Ati #UhuruChallenge. Guys are funny!!! pic.twitter.com/PY7FdXkHzg

— Robert ALAI (@RobertAlai) October 4, 2016
#UhuruChallenge pic.twitter.com/F4NMPb0nzF

— John Mwinzi (@johnmwinz) October 5, 2016